ELDERBERRY
ElderCraft ®
60 veggie caps (100 mg)
Immune Support
Soothes Sore Throat
14.0% Anthocyanins
Most Researched Elderberry

add to cart
*Fast and FREE Shipping

For any order of 2 or more bottles (CAN and USA)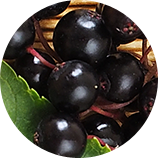 CLINICALLY PROVEN BENEFITS OF ELDERBERRY ELDERCRAFT®
Premium Elderberry ElderCraft® – Most studied elderberry on the market
Powerful Immune Support – Helps with Cold & Flu
14% Anthocyanins – High in Antioxidants – Solvent Free Extraction
No magnesium stearate. Non-GMO. Veggie Capsules.
Backed by Scientific Studies – Antiviral and Antibiotic Properties – Inhibits Influenza Virus
Powerful Immune & Anti-viral Support.

ELDERBERRY
High quality elderberry extract is well known for being a powerful antioxidant, boosting the immune system, and fighting viruses and bacteria. The quality of the different elderberry products on the market varies greatly. It's essential to know which strain of elderberry is being used, the type of soil it is grown in, which active ingredients are in the final product, as well as the potency.
We use a premium, unadulterated, Elderberry extract called ElderCraft® Elderberry – Premium European Black Elderberry Extract We use the best elderberries in the world – they come from Styria, a beautiful region of southeast Austria. Our elderberries are grown in extremely clean and magnesium-rich soil. They are from the Haschberg variety of elderberry trees. They are famous for having huge bluish-black berries which are rich in anthocyanins. Skilled local farmers hand pick the highest quality of fully ripened, deeply colored berries. We use only these premium berries in our final product. We use a clean "solvent free" extraction process to ensure a clean and healthy final product.
Our ElderCraft(R) elderberry is not one single component. It's an active blend of natural fruit anthocyanins, polysaccharides and berry micronutrients. We standardize the final product to contain at least 14% of the active ingredient anthocyanins, which is an extremely high percentage. Our elderberry is certified Non-GMO. We use premium veggie caps and zero magnesium stearate or other unhealthy fillers. If you decide to break open the capsules you can mix the power in water, juice, or a shake. It dissolves very well, is a beautiful deep purple, and it tastes great.
ELDERBERRY
ElderCraft®

Recommended Use Used in Herbal Medicine to promote sweating (diaphoretic), to help relieve fever (in cases of common colds, flus), help relieve symptoms of colds and flus (such as coughs, sore throat and catarrh of the upper respiratory tract), help relieve joint pain associated with conditions such as arthritis, and as an alterative to help remove accumulated waste products via the kidneys, skin and mucus membranes. Provides antioxidants.
Recommended Dose Adults 14+: 1 Capsule 1-2 times/day
Children: 1 Capsule once a day
Warning Do not use if bottle seal is missing, torn or damaged. If you are pregnant or breastfeeding, or if symptoms persist or worsen, consult a health care practitioner. Diuretic effect may occur. Hypersensitivity (e.g. allergy) can occur, in which case, discontinue use. Store in a cool dry place.
Elderberry Extract
(Sambucus nigra subsp. nigra) 100 mg
Non-Medicinal Ingredients Hypromellose, Maltodextrin
FREE Shipping for all orders over $29 (more than one bottle) $4.99 Flat Rate Shipping for all orders of 1 bottle
Applies only to North America ($3.91 USD approx)