Rhodiola Rosea
Premium grade
Tibetan
90 veggie caps (200 mg)
3% Rosavins & 2.5% Salidrosides
REDUCES STRESS AND ANXIETY
Increases Energy
See More Below

add to cart
*Fast and FREE Shipping

For any order of 2 or more bottles (CAN and USA)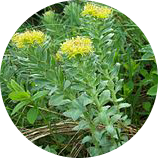 CLinically Proven Benefits of Tibetan Rhodiola
Increased Energy (non-jittery, smoother than caffeine)
Improved Mental Focus and Concentration
Reduced Stress and Anxiety
Improved Athletic Performance
Increased Sex Drive and Performance

"A statistically highly significant improvement (P<.001)
in physical and cognitive deficiencies was observed"
Carl Gustav Carus Akademie Hamburg, Germany

TIBETAN RHODIOLA
Rhodiola Rosea is an extremely potent and effective adaptogen – a class of herbs which work holistically on the body, bringing it back to its peak state of homeostasis. Rhodiola is probably the most energizing of all the adaptogens. Many people prefer rhodiola to coffee for a morning "perk up" because it gives a longer lasting and smoother type of energy, as opposed to the jittery feeling of excess caffeine. Rhodiola also helps with mental focus and concentration.
And even though it gives a powerful boost of energy, it actually helps people with depression, anxiety, and their moods. It's a very pleasant form of energy rather than a "nervous" form.
Rhodiola rosea has a wide range of uses such as: increasing mental and physical energy, improving mental focus and concentration, reducing stress and anxiety, reducing depression, improving stamina and athletic performance, and increasing sex drive and sexual performance.
Tibetan Rhodiola Rosea
– 3.5% Rosavins & 2.5% Salidrosides

The type of rhodiola rosea you buy matters a lot. The type of strain, the soil it's grown in, the location, and the concentration of active ingredients are all important.
We literally searched the globe to attain the absolute best quality rhodiola. Ours is organically grown at high altitudes in a pristine farm in Tibet. It's a magnificent and natural strain of rhodiola which has shown some of the best results in scientific studies.
Another important feature of our organic rhodiola is that it's standardized to contain at least 3.5% Rosavins and 2.5% Salidrosides. Those are the 2 major classes of "active ingredients" in rhodiola. Many brands have very little active ingredients, or they only contain rosavins but not salidrosides. We've also found this particular Tibetan rhodiola to be far more powerful and effective than anything else and we're proud to offer it as a single and in our blends. Try it yourself and experience the difference.

The "Zero Series" from 88Herbs is part of our commitment to purity. Most products on the market sneak in unhealthy "non medicinal" and "other" ingredients or "flow agents" to make their pills and capsules. In our trademarked "Zero Series", we use absolutely:
Zero magnesium stearate
Zero animal products and gelatins
Zero allergenic materials or additives
FREE Shipping for all orders over $29 (more than one bottle) $4.99 Flat Rate Shipping for all orders of 1 bottle
Applies only to North America ($3.91 USD approx)